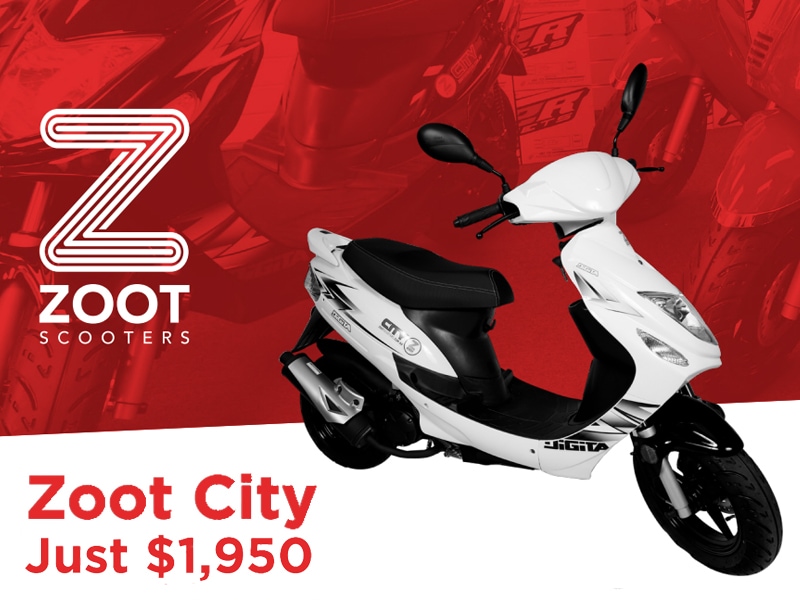 17 Jan

New Zoot City Flyer!

Freedom on the road has arrived! And better yet, you don't need a special licence to drive it on the road – all you need is a standard car licence.

Introducing the all new Zoot City
Less than $15.00 per month to Register
Cover more than 200km on a tank of fuel (5.5L)
No more waiting for the bus to get to Work or Uni
Great fun just cruising around on the weekend
Sleek & Stylish modern lines a real head turner
You don't need a special licence if you have got one for the car
Available in Black or White
Limited stock available at this price. Don't miss out, act now! Visit our Lonsdale Showroom
Open Monday to Friday 9:00 am – 5:00 pm & Saturdays 9:00 am – 12:000 pm at 11-15 Lindsay Road.
Alternative or if that's not convenient we can come to you! Simply speak to our sales manager Damian on 0438 509 297 today to arrange a no-obligation demonstration at your home or business.
Check out Zoot Scooters JAN-2019 A4 City Flyer:
Vehicle registration costs less than $15 per month to register
A single tank of fuel (5.5L) drives more than 200km
No more waiting for the bus to get to Work or Uni
And much more!
From $1,950